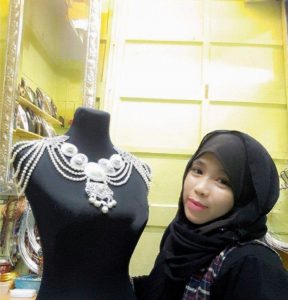 Calzum Pearls and Accessories' success journey started from a stall in Market Market to international magazines in Texas, San Francisco, Panama, and Canada.
Asnia Gamor Bohary, the designer and owner of Calzum Pearls, proudly shared how her handmade Pinoy jewelry designs are making waves in the international market.
"In 2015 my family left Marawi City to start a new life here in Metro Manila. We left our business there and made a fresh start by establishing Calzum Pearls and Accessories. It was rough in the beginning but eventually our luck changed," Asnia recalled.
Asnia started by supplying to other jewelry brands in the country and, by stroke of luck, walk-in clients in her stall discovered her designs. 
"A client found my designs unique and helped me introduce my products abroad. Models abroad and in the Philippines started to wear my products in magazine photo shoots," Asnia proudly shared.
Due to the pandemic and restrictions in exporting, Asnia had to close her stall for three months and lay off her workers. Fortunately, the store association in Market Market introduced Bayanihan CARES to Asnia.
"I have pending orders to complete and new orders from international clients also came in so I took my chance with Bayanihan CARES. And it was a chance I'm so glad I took. I was approved of a loan and I found the process fast and convenient," Asnia shared.
Amidst the challenges faced by her booming business, Asnia remains positive that she can still serve her international buyers and maintain their clients, "Maaayos din naman ito. Makakabalik din tayo sa dati. Ang mahalaga wag mawawala ang pag-asa at malasakit natin sa kapwa," Asnia said.