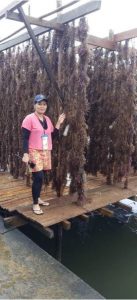 Anelyn Ortega worked as a housekeeper in Hong Kong for two years, and moved to Japan and worked there for another three years until she had to come home in February due to the pandemic.
"I know life will be difficult once I'm home but I was ready to work just as hard here to provide for my family, and opening a business is the best way to go," she explained.
Anelyn found out about the Bayanihan CARES HEROES Program though the DTI Negosyo Center in Hinatuan, Surigao del Sur.
"I was immediately interested in applying for the program because it has no interest, no collateral is required, and even has a grace period. Malaking tulong talaga sa mga magsisimula pa lamang na tulad ko," she related.
Anelyn also expressed appreciation to the training program component of the program as it has provided her a lot of insights on handling the financial side of her new business.
"I decided to venture into seaweed farming because our municipality is known for its seaweed industry. It is easy to manage and doesn't require much manpower. It is also easy to market due to high demands from both local and overseas buyers," Anelyn said.
Anelyn confessed that it was difficult to adjust in the beginning especially now that everything is done online.
"Mahirap ang new normal sa simula pero masasanay din tayo. We have to adapt and overcome all these difficulties. Life must go on lalo na at nandito na tayo kapilang ang ating mga mahal sa buhay. Now more than ever we need to pray more and strive more."