STAPLES (Sustaining Trade Access to Primary Food and Link to Enterprises) is a loan product for micro, small, and medium enterprises (MSMEs) in the retail food market's value chain that are:
in the supply chain of an SBCorp-accredited Fast Moving Consumer Goods (FMCG) food manufacturer/producer/supplier,
down to the retail segments of the market.
STAPLES  is highly relevant to food sufficiency and availability.  It aims to assist MSMEs replenish their working capital and fund other business purposes. It will also help sustain the food supply chains, and maintain sufficiency and affordability. By enabling MSMEs to continue their operations, it will help save jobs and increase their business to make a bigger contribution to our economy.
Who are eligible to apply?

MSMEs in the retail food business sector, which are part of the supply chain of an SBCorp-accredited FMCG food manufacturer –  may be a food producer, 'trader' or 'repacker'
Retailers and wholesalers of food items of SBCorp-accredited FMCGs such as sari-sari stores, public market stalls, convenience stores, grocery stores, bakeries, micro to small scale food producers or processors, and vendors of farm food produce and seafood
As major players in the supply chain of SBCorp-accredited FMCG food manufacturers, their distributors and dealers  may qualify as well for this loan product, so long as their asset size fall within the definition of a small or medium.
How can FMCG's be accredited partners for STAPLES
The FMCG food manufacturer/producer must:
Have an asset size of more than PhP100.0 million;
Belong to the top 1,000 corporations in the Philippines; and
Have a nationwide network of at least 20 distributors and at least 100,000 sari-sari stores digitized into their sales force automation system.
What are the Documentary Requirements for Accreditation?
Letter of Intent to participate in SBCorp's STAPLES Lending Program;
General Information Sheet submitted to the Securities and Exchange Commission (SEC); and
Annual Report
How can MSMEs qualify for STAPLES?

Must be a micro, small, or medium enterprise in the retail food sector
Must be a part of the food supply chain of an SBCorp-accredited FMCG food manufacturer:

For sari-sari stores: in good standing for the past year
For distributor/s and dealer/s: must have an asset size of a small or medium enterprise; must be in good standing for three (3) years for loans of PhP1.0 million and above

Must be 100% Filipino owned or at least 60% Filipino-owned for corporations with foreign ownership
Must have no unresolved major negative credit findings on the applicant and on the enterprises
Loanable Amount, Repayment Terms and Service Fees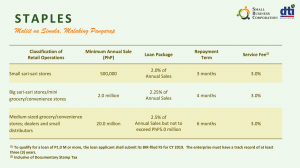 STAPLES is an interest-free and collateral-free financing program. The loanable amount shall be subject to review upon subsequent renewals based on sales performance.
Documentary Requirements for Loan Applicants
Tier 1:  Small Sari-Sari Stores
Government-issued ID
Bank account or electronic money account
Barangay Business Permit 2019 or 2020
Two (2) photos of business signage and inventories, or fixed assets (Jpeg format)
Tier 2:  Big Sari-Sari Stores/Mini Groceries/Convenience Stores
Government-issued ID
Bank account or electronic money account
Mayor's Permit 2019 or 2020
Two (2) photos of business signage and inventories, or fixed assets (Jpeg format)
Tier 3:  Medium-sized grocery/convenience stores; dealers and small distributors
Government-issued ID
Bank account or electronic money account
Mayor's Permit 2018, 2019, and 2020
For loans of PhP1.0 million and above, must submit latest BIR-filed Balance Sheet (e.g. 2020) to ascertain that the business is not a large enterprise
For corporations & partnerships only: Secretary's Certificate re: authorization to borrow, where the President/CEO or an alternative CFO or a Managing Partner is the principal borrower